It has been more than six months since our last Refresh event in Paris, so we were very excited to launch the third Labiotech Refresh last week in sunny Berlin. As you all know, third time's the charm!  
In a relaxed and friendly atmosphere at the Alte Münze in Berlin the attendees had the chance to listen to a number of impressive speakers including David Berry, General Partner at Flagship Pioneering, and Antoine Papiernik, Managing Partner at Sofinnova. We covered loads of topics in the panels ranging from oncology, NASH and synbio, to mRNA therapeutics and finance. Also, we got to hear six awesome biotech startups presenting their ideas at two startup battles. Finally, this year we also introduced the Refresh Expert Track, where we asked experts of the industry to share their unique views on their fields.
For all those who missed it, have a look at our video with the highlights. You can also find a recap below
---
10h00 – 10h30:
How far has Biotech come? – Keynote by David Berry, Flagship Pioneering (US)
We're facing the opportunity of the first inflection point in Biotech since the foundation of Genentech." – David Berry
According to Berry, we're just on the verge of unleashing an entirely new era in biotech. At a time where costs of DNA sequencing and synthesis are lower than ever, we are able to obtain unprecedented amounts of information and, for the first time, to actually understand the biology that we're trying to treat.
Berry outlined how new tools like CRISPR and advances in synthetic biology are offering huge opportunities in biotech now. For Berry, this is the right time to be a biotech innovator and the right time to be a biotech investor.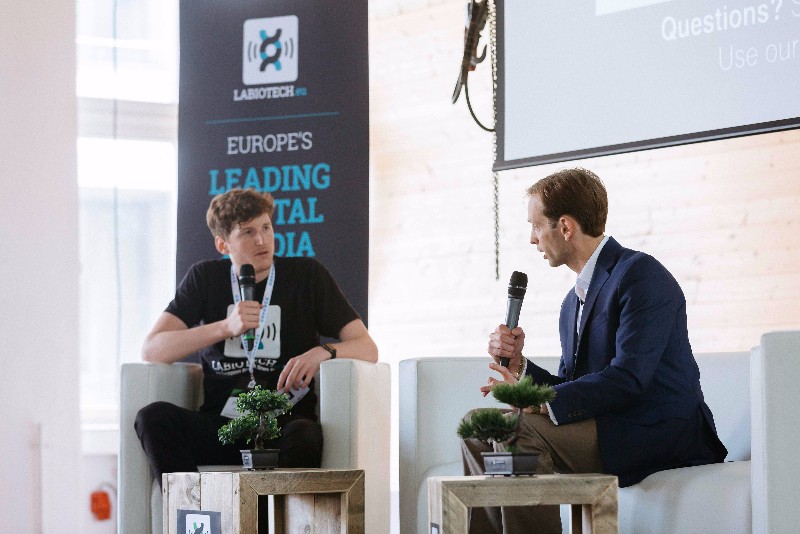 "2 infinite resources:
1. The sun
2. People telling you your ideas are bad" @DavidBerry26 i'm having too much fun with this #LBRefresh

— Emilia Díaz (@EmiliaDiazCL) June 8, 2017
---
10h30-11h00
Panel – New Frontiers in Oncology
The panel discussed the trends, challenges, and opportunities in oncology. Masoud Tavazoie, CEO of Rgenix (US) commented that "the most exciting developments from my perspective are novel approaches of hitting the tumor microenvironment."
However, a major challenge that was discussed is that "the technologies are progressing so fast that regulators can't keep up," as Carlos de Sousa, CEO of Immunicum explained. The field is changing so quickly that by the time you complete a trial the state of the field is completely different.
The panelists also examined the differences between the US and Europe. Holger Reithinger, General Partner at Forbion, commented, "I think we have a lot of opportunities in Europe, but I think the VCs in Europe have been a little bit shy and also risk averse. That's why we have lost really exciting opportunities in Europe in the last 5 years."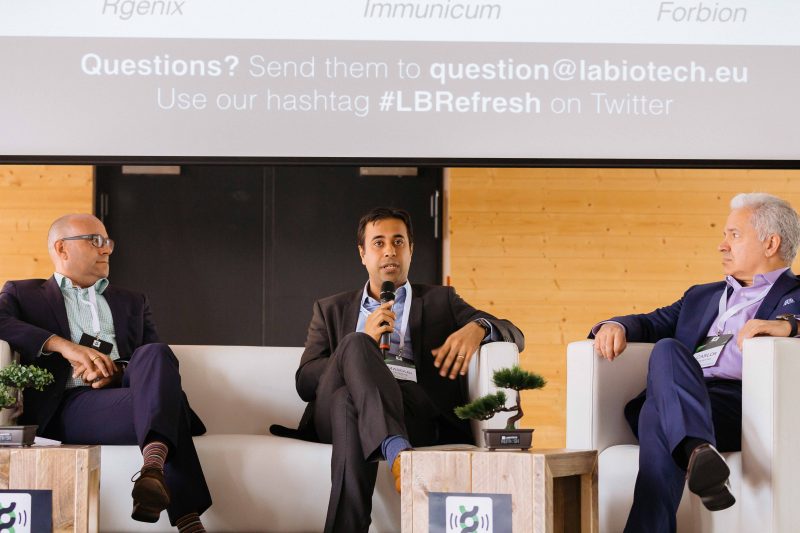 #LBRefresh now on oncology: no. of appropriate patients recruited for studies being a major bottleneck for firms and new therapies. pic.twitter.com/zqGnTYA8YJ

— Instinctif Partners (@instinctif_de) June 8, 2017
---
11h00-11h20
Fireside Chat with Steve O' Connel, RebelBio – Accelerating Synthetic Biology
RebelBio is a bioaccelerator from Ireland, which has a number of exciting synbio startups in its portfolio, including Moirai Biodesign or Perfect Day Foods. As O'Connel explained, "We're investing quite heavily in the synthetic biology applications, especially for the production of synthetic foods."
According to O'Connel, lab-cultured meat will hit the market very soon, similar to other synbio products such as synthetic milk, produced with biotech instead of cows. He also explained that "the digital to biological conversion is going to be a new frontier," referring to innovative technologies such as 3D printing of vaccines.
On the question why there are still fewer accelerators in Europe than in the US, he boldly stated that "It's changing with the growth of programs like ours in Europe and it will steadily increase!"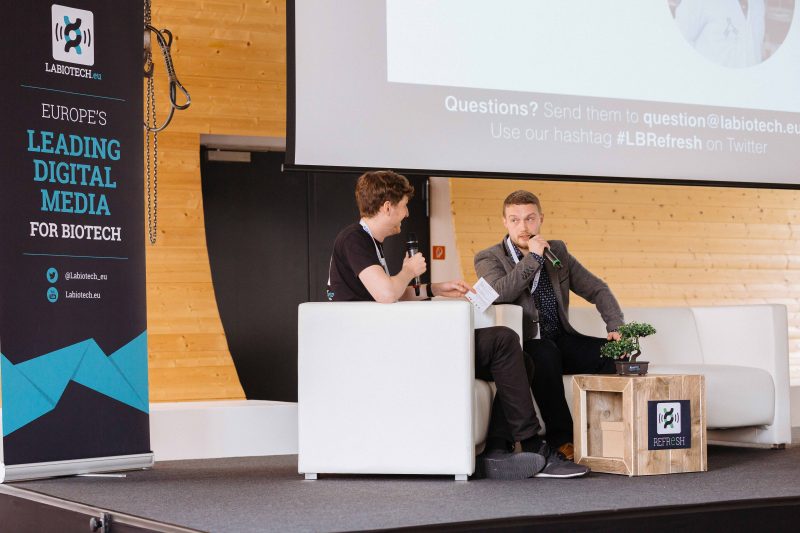 ---
11h50-12h40
Startup Battle – Early-Stage Round
Cambridge Cancer Genomics, funded by the famous Y Combinator, aims to help clinicians to better track their patients' responses to cancer drugs in order to make more informed treatment decisions. For this, the startup uses AI technologies in order to design personalized tests based on the analyses of circulating tumor DNA isolated from so-called 'liquid biopsies'. The company already gathered proof-of-concept data with more than 5000 biopsies and is currently establishing proof-of-concept with more than 100 patients.
Junction Therapeutics has developed a unique technology for the controlled modulation of the permeability of the blood-brain barrier in order to allow small molecules to enter the brain as well as pathological molecules to be removed. The startup's technology is based on suppressing a specific tight-junction protein, which leads to the opening of the blood-brain barrier for several hours. The company initially plans to use its technology for the treatment of Alzheimer's disease.
Pancryos is working on a scalable allogeneic cell therapy for type 1 diabetes, which is based on the discovery of a new marker identifying pancreatic precursor cells by the co-founders. The startup aims to use these pancreatic precursors for the cost-effective manufacturing of insulin-producing cells from stem cells. The biotech aims to initiate first clinical trials in 2020. 
And the winner was Junction Therapeutics!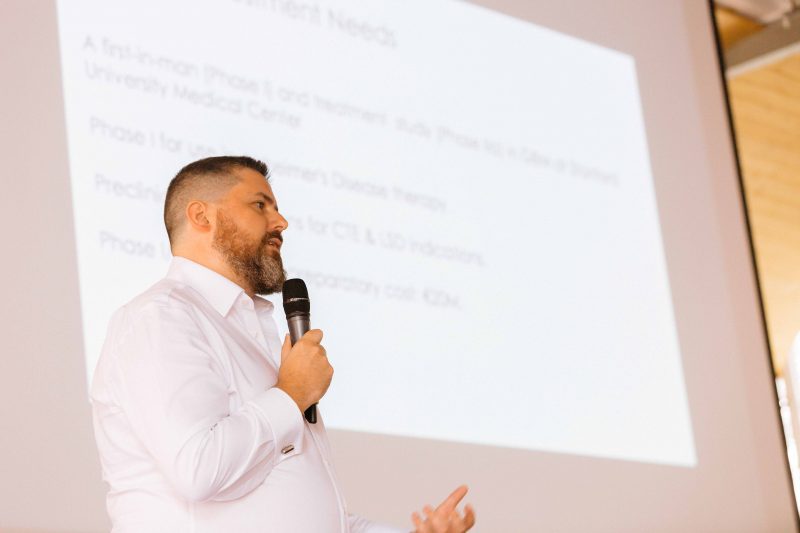 ---
12h40-13h00
Fireside Chat with Dean Hum, Genfit – NASH, the Unexpected Goldmine
NASH has grown to become a huge market opportunity, based on the rapidly increasing number of patients as a consequence of western lifestyle. Consequently, as Dean Hum, CSO of Genfit explained, the question is not necessarily about who will reach the market first. "There is going to be room for several drugs in the field, and more important than who reaches the market first is the question of the profiles and the efficacy of the different drugs," he commented.
Hum pointed out that the field is getting a great amount of attention at the moment, not only due to the high unmet medical need. "What's nice is that at this stage many things are coming together – regulatory agencies have established a regulatory path to get to the market and a number of companies have established proof-of-concept using different approaches."
Although Hum believes that Genfit's current Phase III candidate Elafibranor has good chances of becoming a first-line therapy, he also thinks that, based on the multifactorial nature of the disease, a combination therapy will likely be the ultimate choice.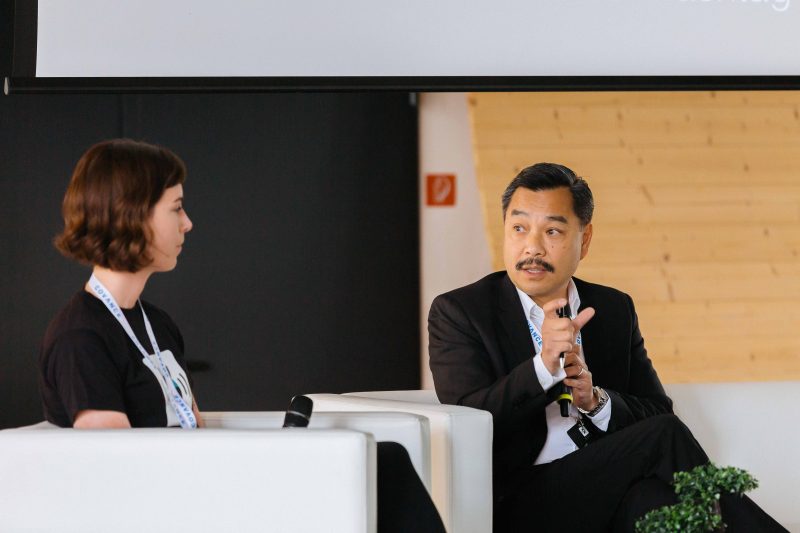 ---
Panel – Turning Biotech Failures into Success
The panelists first made efforts to define what failure actually means in biotech. "There are so many ways not to succeed and there's only one way to succeed," commented Ignacio Faus, CEO of Genmedica Therapeutics. While the panelists named more obvious types of failures that are attributable to management or lack of clinical success, they also pointed out the possibility of commercial failure, bringing up the example of UniQure's Glybera – the first gene therapy approved in the EU, which was recently withdrawn due to lack of success on the market.
On the topic of turning a biotech failure into a success Christina Takke, Managing Partner at V-Bio Ventures, commented, "For me, the confidence of the management in their own program is one of the most important aspects to turn a biotech failure into a success." The panelists also discussed the topic of transparency, highlighting the importance of open communication, especially towards investors but also towards the public.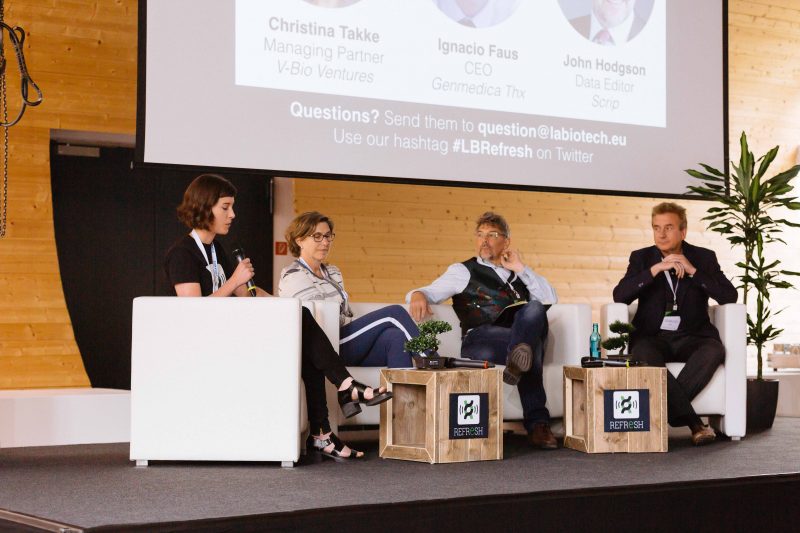 ---
14h50-15h10
Fireside Chat with Sean Marett, BioNTech – mRNA Thx, a True Game-Changer?
BioNTech is one of the few companies working in the mRNA field, next to companies like CureVac and US-based Moderna. The biotech is focussed on developing personalized therapies for the treatment of cancer. "We try to provide individualized immunotherapies. If you try to compare two patients' tumors, they are never the same. We recognize this fact and try to develop individualized treatments for each patient," explained Sean Marett, COO of BioNTech. The company is trying to pursue a more transparent strategy compared to its competitors and is actively publishing its scientific data. "It's our main strategy to attract top scientists," Marett explained. "One of the major challenges for us is to actually find the people. It's not easy to find really good scientists," he added.
The biotech has already entered partnerships with big players such as Sanofi or Genentech, which according to Marret is a necessity to gain access to the expertise required to bring a therapeutic product onto the market. "If you want to be the first on the market, you need to get a big partner to get you there."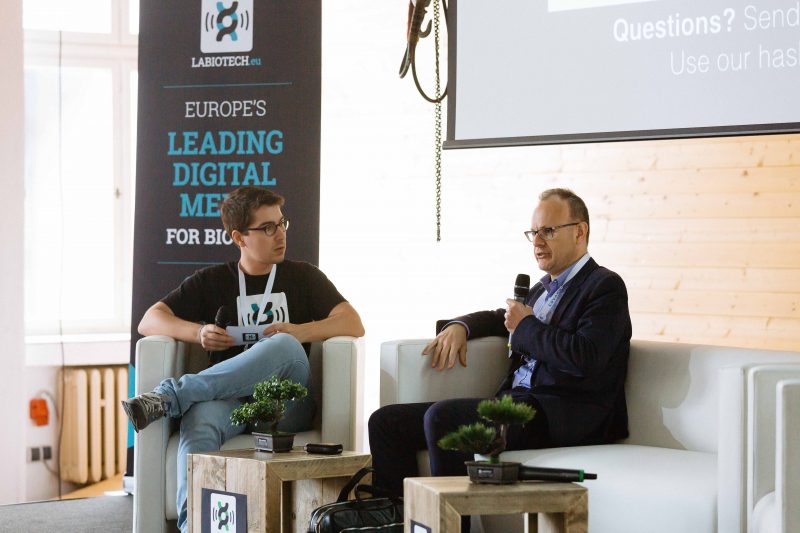 ---
15h10-16h00
Startup Battle – Rising Stars
Nova Discovery is using a new mathematical methodology, called the Effect Model, in order to predict the clinical efficacy of new therapies. The startup has developed a predictive analytics platform integrating multi-omics, clinical data and biomedical knowledge to support their clinical partners to make decisions within R&D. The company was able to reduce the size of a Phase III trial from 3000 to 600 patients thanks to optimal responder profiling.
Beroceutica develops machine learning algorithms to improve patient stratification, based on the identification of new features and biomarkers that define the patient population. The company supports pharma companies in order to increase the success rate of clinical trials but also uses its AI platform to identify new drug targets based on biochemical pathway analyses.
Confo Therapeutics has developed a new technology to target the historically undruggable G protein-coupled receptors (GPCRs).The startup uses single domain antibodies called Confobodies, inspired in those found in llamas, to stabilize the elusive molecules and drug them. Since the confobodies also allow crystallization of the active GPCRs, the company is able to screen for selective agonists based on protein structures. The biotech is currently performing screenings for new GPCR agonists the field of rare diseases and fibrosis.
The winner was Confo Therapeutics!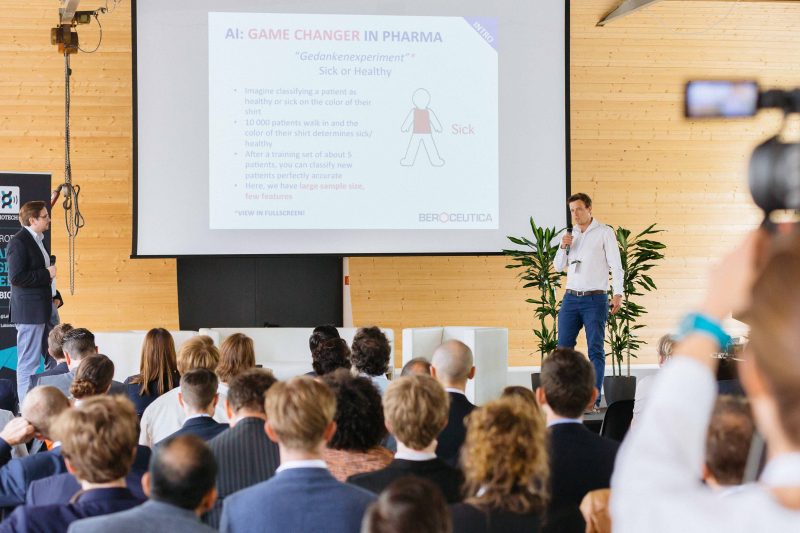 ---
16h30-16h50
Fireside Chat with Hadyn Parry, Oxitec – Can Synbio Cure Malaria?
Oxitec is pioneering the development of genetically engineered mosquitoes in order to fight diseases such as Dengue, Zika or Malaria. "We're not using toxic chemicals to fight these diseases but we're using the mosquito to fight itself," commented Hadyn Parry, CEO of the successful British biotech. The company has been able to reduce mosquito populations of the Aedes aegypti species by a massive 80-90% by releasing Oxitec's so-called Friendly Aedes mosquito in field trials in Brazil, the Cayman Islands, the US or India.
Of course being the first company developing and releasing GM mosquitoes comes with significant regulatory challenges. Parry explained, "some countries have existing regulation, others won't." But Parry believes that the biotech is currently at the forefront of educating regulators in this new field. Talking about Oxitec's future plans, Parry said that he is waiting for green light to use the mosquitoes against Malaria, although, according to Parry, it's much more difficult to convince investors of a disease predominantly affecting African countries. In the longer term, the biotech also plans to transfer its technology to insects.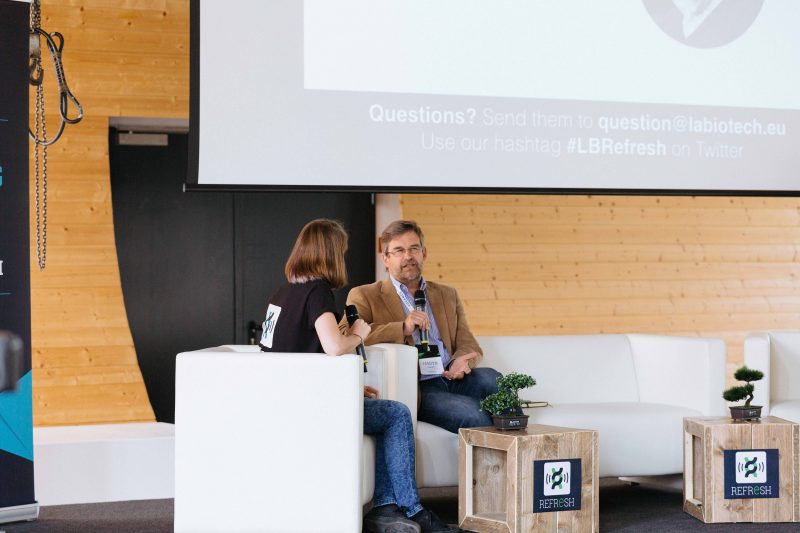 ---
16h50-17h20
Panel – Escaping Biotech's Financial Downward Spiral
After 2016, the worst year for biotech finance in a decade, it seems that Europe is starting to recover. "We're back to a positive trend, to a normal and stable environment", said Cedric Moreau, Managing Director at Oddo & Cie. "The situation has completely changed," agreed Bernard Gilly, CEO of Gunsight Biologics. "But we're still lacking a number of things in Europe." In particular, the panelists highlighted how the biotech market in Europe is mostly just driven by specialist funds, with few interventions from generalists.
To get high valuations, European companies still need to access the US, mostly in a two-step process involving going public on Euronext and then in the Nasdaq. "It raises the costs, brings more volatility on the stock price and requires more organization and work, but it makes sense," explained Moreau. In addition, as Karl Nägler, partner at Gimv, highlighted, late stage funds are lacking in Europe. Bernard agreed, adding that a big success story is what's needed to push the sector forward and promote these types of funding opportunities.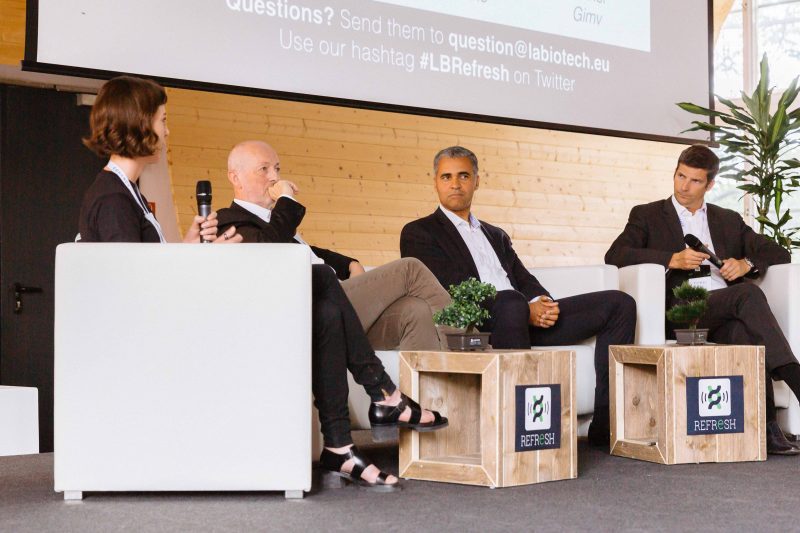 ---
17h20-17h50
The Next Big Thing in Biotech – Keynote by Antoine Papiernik, Sofinnova Partners
As a managing partner at one of the most successful European biotech VCs, Sofinnova, Antoine Papierik was certainly able to give us an impressive overview of what's happening in biotech right now, and where the field is heading.
Papiernik highlighted three key areas in biotech that currently have the potential to bring something game-changing to the industry. While Immuno-oncology is not new, Papiernik pointed out that we are certainly not there yet. "The next 5-10 years will show whether immuno-oncology is actually a huge thing!" Right now, the space might actually be at the peak of inflation, as Papiernik explained. "We should be really careful now, about the disillusionment," he added. The other two areas he talked bout about included the field of rare diseases, which according to Papiernik should dramatically grow over the next few years, as well as the area of RNA therapeutics. "Here, we are still quite early on the technology trigger."
Yet, Papiernik concludes that in the end "whatever the technology, the only thing that makes the company a success is if it has a big impact on the patient." For Papiernik, the next big thing is focussing on what's really important, the patient.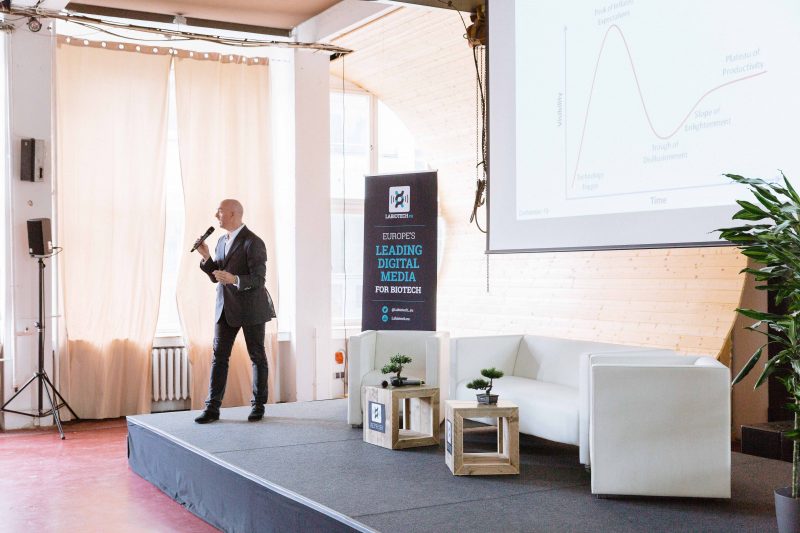 Merken