Spring is finally here (sort of) and so are our latest additions to the team! So dodge the snow and come on in and meet them
Anna is from little wee Estonia. She's joining us as our team support and is responsible for one of the most important tasks at Labiotech, planning the team's activities of fun (you'll get to hear about our upcoming activity very soon). Anna is a dancer, in love with Doners (eats them nearly every day), and knows everything there is to know about Beyonce.
Nick joins us as our campaign manager, working alongside the crazy sales team. Hailing from the US of A, he has an MSc in Molecular Medicine so he knows his stuff. He's also really into music, especially techno. Good thing he's in Berlin! 🎧
Thomas is joining us as the marketing intern. Adding to our massive representation of French, Thomas will probably feel like he never left home. He likes sport, especially football, and is a vegan! Occasionally the cheese ends up winning the battle of self-restraint though… The struggle is real.
All three are settling right on in and making themselves at home. I can already tell that they're going to be a lot of fun to work with 😉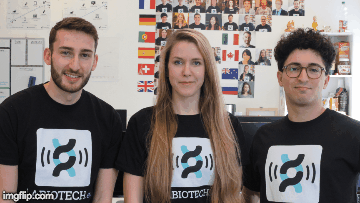 Want to know more about our crazy team? Check out what we get up to on an average day.